Newly Heavy Narrow Fabric Needle Loom
ENH
Heavy fabric loom, narrow looms, ribbon loom
ENH Heavy Narrow Fabric Needle Loom is developed for industrial textile. Suitable for producing slings thickness max of 8mm, and width ranges with 85mm to 370mm, output ranges with 1or 2 number of tapes. The weft density is available from 2.46cm to 11.67cm in the CAM system to weave.
Heavy narrow fabric needle loom reinforce the structure, minimize the vibration by increased the stability of machine under high speed performance. Heavy narrow fabric needle loom use automatic yarn feeding and weft feeding device or belt-type weft feeding device during weaving, so that the tension during feeding can be balanced and the yarn is not easy to break.
The weaving system 1 to 3 can be used for weaving, and can monitor broken weft, warp, broken bottom thread, reeling, etc. The machine parts are made of real materials, precision machining, durable for many years, and low depreciation rate.
Application
Vehicle recovery tow strap, over wheel strap, cargo strap, ratchet strap, trailer strap, tie down strap, winch strap, lifting sling for max width 370mm.

Features
Electronic lubrication system, PLC setting can control oil supplies and regulation.
The pick pepeat use CAM system with 1:6 or 1:8.
The reed is driven by five connecting rods and has a smooth, strong and tough structure.
There is a reinforcing structure between the heald frames to balance the operation of the brown frame.
The warp tension device assists in feeding the warp so that the warp is smoothly interwoven with the weft/substrate into a flat tape.
The ratchet box adjusts the weft-pull belt device, and the double-roller, roller is used to smoothly pull out the heavy finished product.
Needle Loom Machine Accessories
ENH Heavy Narrow Fabric Loom Machine addition of 14 or 16 pieces of heald frame with a stop mechanism. The large opening of the shedding frame is not easy to clamp yarn. And use the double-lock binder thread and latch needle system to make good quality edge of the webbing. Due to the thickness of the sling, the take off device with a double thick roller to pull the tape.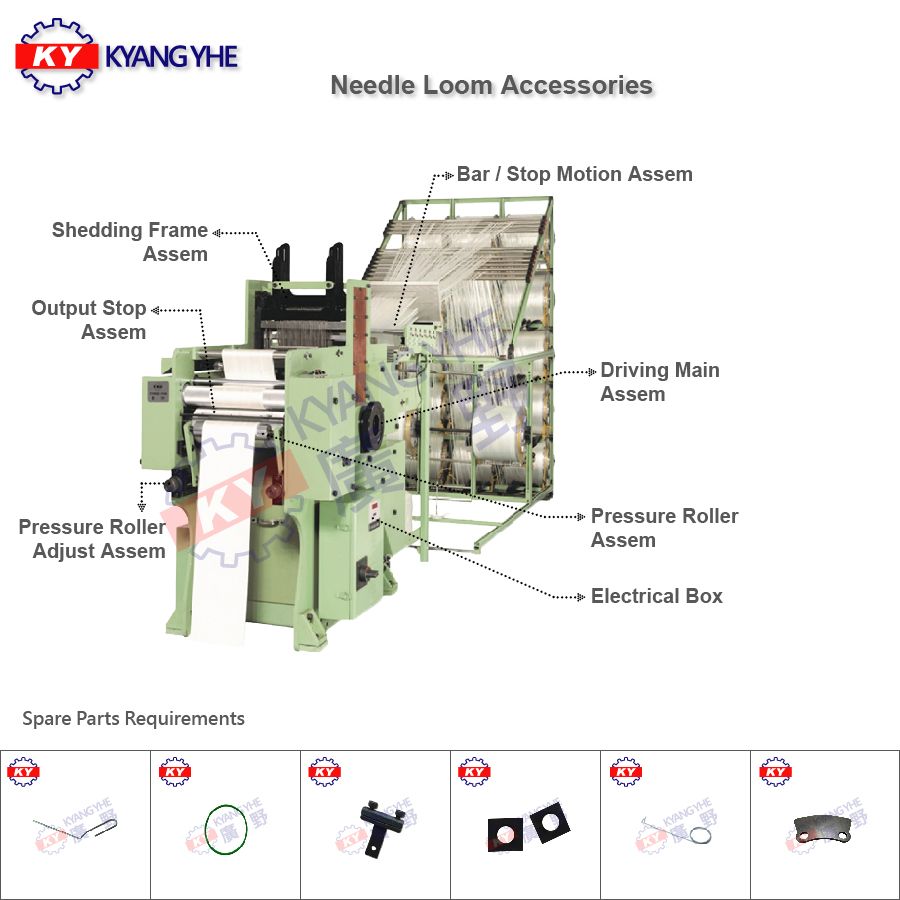 Spare Parts Requirements
If you have needle loom spare parts requirements, please fill out the form by "Spare Parts Inquiry" and provide ID number of the machine. And also provie the part number according to the parts manual, the parts quantity, photos or provide a sample of the parts. Will be served by a business specialist.
MODEL

TAPE LINES

REED WIDTH

HEALD FAMES

PICK PEPEAT

MAX. POWER

R.P.M

WEFT DENSITY

ENH 1/220
1
220mm
14

CAM SYSTEM

(1:6 or 1:8)

3.7KW
300~400
2.46~11.67cm
ENH 1/280
1
280mm
14

CAM SYSTEM

(1:6 or 1:8)

3.7KW

200~300

2.46~11.67cm

ENH 1/370

1
370mm
14

CAM SYSTEM

(1:6 or 1:8)

3.7KW

200~300

2.46~11.67cm

ENH 2/85

2
85mm

14~16

CAM SYSTEM

(1:6 or 1:8)

3.7KW

500~600

2.46~11.67cm

ENH 2/165

2
165mm

14~16

CAM SYSTEM

(1:6 or 1:8)

3.7KW

500~600

2.46~11.67cm
*We have many machines that can produce Slings, Safety belt, Trailer straps, etc. According to the customer's sample, including width, thickness, material, application, function and output. Make it easy for you to produce massively by auto control. Meanwhile guarantee the stability and quality. Fill in the online form to learn more about Kyang Yhe.
Gallery

Video

ENH 1/370 Heavy Fabric Loom

Application

Related Products

NDM

Medium and Heavy Narrow Fabric Needle Loom output ranges with 2 number of tape width from min 80mm...

Details

HTM

Heavy Narrow Fabric Needle Loom can weave 5mm~6mm thick tape, output ranges with 2 numbers...

Details

Files Download

Download EDM know more about Kyang Yhe newly heavy narrow fabric needle loom

Download
Model
ENH 1/220
ENH 1/280
ENH 1/370
ENH 2/85
ENH 2/165
Reed Width
KY Catalogue 2022
Download E-Catalogue, know more about KY.

Download
Newly Heavy Narrow Fabric Needle Loom | Textile Machinery Manufacturers - Kyang Yhe (KY)
Based in Taiwan, Kyang Yhe Delicate Machine Co., Ltd. is one of the leading Newly Heavy Narrow Fabric Needle Loom | textile machinery manufacturers since 1964.
Kyang Yhe (KY) industrial textile machines are designed to deliver fine quality textile knitting products such as elastic tapes, ribbon tapes, safety belts, luggage belts, hooks and loops, etc. Their textiles equipment is productive, high speed, easy to operate. It includes needle loom machines, weaving machines, label printing machines, weaving loom machines and more.
Kyang Yhe (KY) has been offering customers high quality textile machinery since 1964. Both with advanced technology and 57 years of experience, Kyang Yhe (KY) makes sure meet customer's demands are met.
View our quality textile machinery products
Needle Loom
,
Narrow Fabric Jacquard Loom Machine
,
Printing Machine
,
Braiding Machine
,
Warping Machine
,
Covering Machine
,
Packing Machine
,
Cone Winding Machine
,
Label Slitting Machine
,
,
Shoelace Tipping Machine
,
Finishing And Starching Machine
,
Ribbons Dyeing Machine
,
cutting machine
,
Crochet Machine
,
Cord Knitting Machine
and feel free to
Contact Us
.