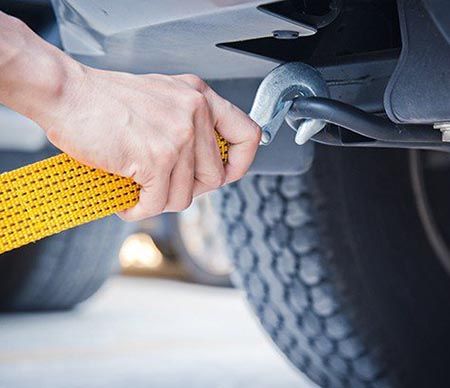 Recovery Tow Straps Loom And Equipment
Recovery tow straps are generally made of nylon, are built to stretch. The stretching action is crucial to recover stuck vehicles. Recovery straps are used to recovering vehicles that have wrecked or need to be towed out of a tight spot such as water, snow, sand, mud, or other road debris.These straps, also called "snatch straps" since they can snatch a vehicle out of a sticky situation, have loops on each end.

There is a difference between recovery straps and tow straps, and each type has its benefits.

Tow straps are made from polyester that has less stretch compared to recovery straps. They are used in a similar way but their functions are different. Tow straps are made for towing freely-moving transport vehicles behind another vehicle.Tow straps possess end-metal hooks and are not meant to be used for recovering stuck vehicles due to them being less stretchy. Tow straps also break easily when subjected to recovery-related pressure.

KY recovery tow straps loom can produce with customer's sample, including width, thickness, material, function and output. Make it easy for you to produce massively by auto control. Meanwhile guarantee the stability and quality.
---
KY Needle Loom For Recovery Tow Straps
For more detailed product information and quotation of "Curtain Heading Loom", please leave an inquiry as below online form, we will get back to you soon.

For more information on "Recovery tow straps Loom", including output, maintenance services or factory expansion solution suggestions, please provide detailed information on the recovery tow straps photo, tape width, thickness of online form to supply the best service for you.

---
Gallery

Video

KDN 2/110MG vehicle recovery tow strap needle loom

Related Products

NDM

Medium and Heavy Narrow Fabric Needle Loom output ranges with 2 number of tape width from min 80mm to max 165mm, the weft density is available from 2.46cm...

Details

ENH

ENH Heavy Narrow Fabric Needle Loom is developed for industrial textile. Suitable for producing slings thickness max of 8mm, and width ranges with 85mm...

Details