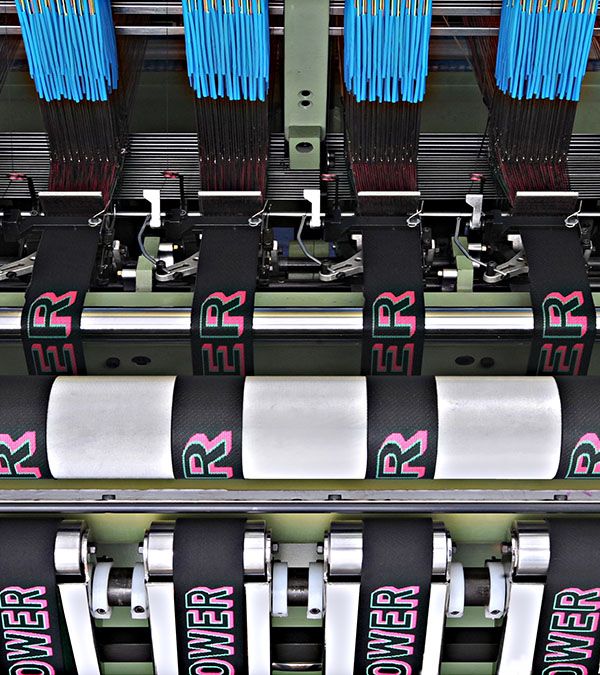 Computerized Narrow Fabric Jacquard Loom Series
Jacquard loom computer, electronic jacquard machine, jacquard weaving loom, jacquard needle loom machine
Computerized narrow fabric jacquard looms operated by computer programs can efficiently and stably produce high-quality jacquard ribbon. Jacquard loom are widely used in the garment market, and are mostly used in for elastic or non-elastic jacquard fabric bands, such as underwear waistbands, bra straps, backpack shoulder straps or shoelace, etc. The higher number of jacquard needles, the more detailed the pattern.

Kyang Yhe develop three types of narrow fabric jacquard looms, that both have different operating with each machine, for further information, please feel free to contact us and we will recommend the most suitable product for you.
---
Application
Jacquard ribbons, jacquard elastic waistband, jacquard bag strap, jacquard shoes lace, jacquard rope, trimmings.
For further information and machine video, please click on the links below.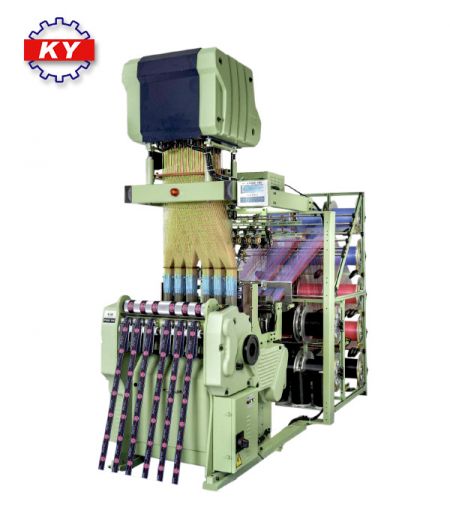 ENJ
Newly narrow fabric jacquard loom machine integrated bonas and swiss type superiority, easy...
Details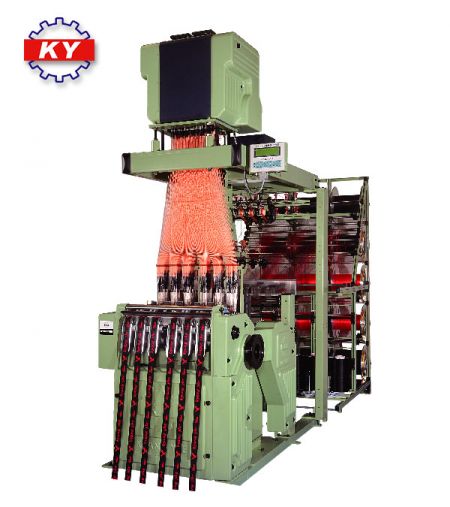 NDJ
Swiss type narrow fabric computer jacquard weaving loom can be used jacquard head of suitable...
Details
KY Catalogue 2022
Download E-Catalogue, know more about KY.

Download
Computerized Narrow Fabric Jacquard Loom Series | Textile Machinery Manufacturers - Kyang Yhe (KY)
Based in Taiwan, Kyang Yhe Delicate Machine Co., Ltd. is one of the leading Computerized Narrow Fabric Jacquard Loom Series | textile machinery manufacturers since 1964.
Kyang Yhe (KY) industrial textile machines are designed to deliver fine quality textile knitting products such as elastic tapes, ribbon tapes, safety belts, luggage belts, hooks and loops, etc. Their textiles equipment is productive, high speed, easy to operate. It includes needle loom machines, weaving machines, label printing machines, weaving loom machines and more.
Kyang Yhe (KY) has been offering customers high quality textile machinery since 1964. Both with advanced technology and 58 years of experience, Kyang Yhe (KY) makes sure meet customer's demands are met.
View our quality textile machinery products
Needle Loom
,
Narrow Fabric Jacquard Loom Machine
,
Printing Machine
,
Braiding Machine
,
Warping Machine
,
Covering Machine
,
Packing Machine
,
Cone Winding Machine
,
Label Slitting Machine
,
Shoelace Tipping Machine
,
Finishing And Starching Machine
,
Ribbons Dyeing Machine
,
Cutting Machine
,
Crochet Machine
,
Cord Knitting Machine.
and feel free to
Contact Us
.