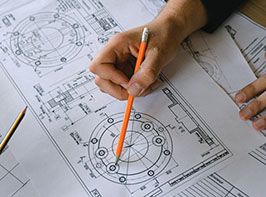 R&D Service
Customized products to meet your needs and create unique products
With different yarn specifications and weaving methods, the finished products of ribbons span a variety of industries, such as industrial belts, medical products, and household products. Due to the cultural differences between countries and the familiarity of customers with different machines, how to produce unique products and achieve cost savings in the fabric webbing market is an issue of consideration for our customers.

KY has many years of experience in the webbing market and specializes in technology research and development, capacity and quality improvement. KY grasps the changes in the webbing market and supports its customers in improving their product competitiveness by setting up an innovative research and development department.
---
1. Feasibility Assessment
Based on the sample tapes provided by customers and industry requirements, we will analyze the sample tapes; understand the tape width, tape thickness, pattern, tissue, etc., and conduct preliminary evaluation stage.
2. Product Spec Confirmation
According to the customer's requirement, we provide appropriate proposals and suggestions, including product specifications and quotations, and after the customer completes the order contract signing, the R&D team will proceed with the preliminary design.
3. Project Development and Design
The design process includes appearance, function, product structure and material standards, etc. Through continuous testing and correction, We will provide customers' photos and product test films to ensure that the machine can meet customers' needs and good production quality.

Kyang Yhe is one of the well-known brands in the webbing industry, Kyang Yhe has more than 50 years of manufacturing and production experience, We have obtained a number of certifications and patents, such as: ISO9001, CE certification, patent certificates, etc. It is a partner you can trust!(Production testing will be carried out before delivery, and shipment arrangements will be made after customer confirmation.)