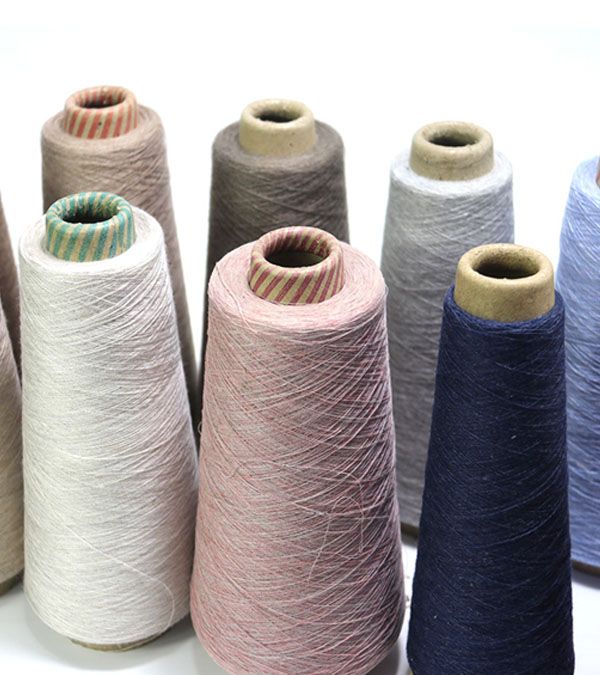 Spun Yarn
Staple yarns
Spun include cotton yarn, wool yarn, blended yarn, and the like. Filament and spun processed yarns can also be matched with each other to form core-spun yarn, cross-twisted yarn and parallel yarn. If the same kind of fiber is used, the finer the fiber is spun into the same fineness and the same degree of yarn is softer.
---
Application
Cotton, linen, wool, blended yarn.
---
Summary:
Types of short-fiber yarns:
Cotton is a very popular source for thread and textile manufacturing with a variety of types that can be grown and used. The 3 most popular types of cotton used for yarn manufacturing are Egyptian cotton, Pima cotton and American cotton.
Wool is a type of yarn. Wool means soft hair derived from the fleece of sheep or other animals. The quality of wool is determined by its fiber diameter, crimp, yield, color, and staple strength. Fiber diameter is the single most important wool characteristic determining quality and price.
Blending, in yarn production, process of combining fibres of different origins, length, thickness, or colour to make yarn. Blending is accomplished before spinning and is performed to impart such desirable characteristics as strength or durability, to reduce cost by combining expensive fibres with less costly types, or to achieve special colour or texture effects. Fabrics made from such fibres are called blends. 
KY Catalogue 2022
Download E-Catalogue, know more about KY.

تحميل
Spun Yarn | Textile Machinery Manufacturers - Kyang Yhe (KY)
Based in Taiwan, Kyang Yhe Delicate Machine Co., Ltd. is one of the leading Spun Yarn | textile machinery manufacturers since 1964.
Kyang Yhe (KY) industrial textile machines are designed to deliver fine quality textile knitting products such as elastic tapes, ribbon tapes, safety belts, luggage belts, hooks and loops, etc. Their textiles equipment is productive, high speed, easy to operate. It includes needle loom machines, weaving machines, label printing machines, weaving loom machines and more.
Kyang Yhe (KY) has been offering customers high quality textile machinery since 1964. Both with advanced technology and 57 years of experience, Kyang Yhe (KY) makes sure meet customer's demands are met.
View our quality textile machinery products
Needle Loom
,
Narrow Fabric Jacquard Loom Machine
,
Printing Machine
,
Braiding Machine
,
Warping Machine
,
Covering Machine
,
Packing Machine
,
Cone Winding Machine
,
Label Slitting Machine
,
Shoelace Tipping Machine
,
Finishing And Starching Machine
,
Ribbons Dyeing Machine
,
cutting machine
,
Crochet Machine
,
Cord Knitting Machine
and feel free to
Contact Us
.