Zipper
Cremallera,zips,zip fastener,clasp locker
Zipper also known as zip fastener or "cremallera" is a commonly used device for binding the edges of an opening of fabric or other flexible material, such as on a garment or a bag. Zippers come in all different sizes, shapes, and colors. Components of the zipper include slider, elements, digit limit, and lock piece. The elements decide the side strength of the zipper. Normally zipper has two tapes, every tape has one elements, and two elements cross each other to close the zipper.
The materials of the zipper are different from everyday, and widely use on aviation, aerospace, military, medical, daily life.
Types Of Zipper
Zipper are dividing to coil zippers, invisible zippers, reverse coil zippers, metal zippers, plastic-molded zippers, open-ended zippers, two way open-ended zippers, two way closed-ended zippers and magnetic zippers .
The slider runs on two coils on each side; the teeth are formed by the windings of the coils. Nylon was formerly used and though only polyester is used now, the type is still also termed a nylon zipper. Now the coils zipper form the bulk of sales of zippers worldwide.

Kyang Yhe machine model : KZP 8/25 or KZP 10/25
This kind of a zipper is common in skirts and dresses. A regular invisible zipper uses a lighter lace-like fabric on the zipper tape, instead of the common heavier woven fabric on other zippers.
The zippers are a variation of the coil zipper. In a reverse coil zipper, the coil is on the reverse side of the zipper and the slider works on the flat side of the zipper. Water resistant zippers are generally configured as reverse coil.
The teeth are not a coil, but are individual pieces of metal molded into shape and set on the zipper tape at regular intervals. Metal zippers are the classic zipper type, found mostly in jeans and pencil cases. 
Kyang Yhe machine model : KZP 8/25 or KZP 10/25
Plastic zippers can be made in any color of plastic. Plastic zippers mostly use polyacetal resin, though other thermoplastic polymers are used as well.
How to produce Zipper with KY Machines
We have a lot of models can provide zipper. Suggest models depend on style, function and width of your need. Make it easy for you to produce massively by auto control. Meanwhile guarantee the stability and quality. Fill in the on-line form to learn more about Kyang Yhe.
Gallery

Video





Related Products

KZP

---

KZP zipper needle loom designs by a logic design and lower gravity to manufacture the zippers with high speed and high productivity which attached the guiding plate leads to quality product without loss of efficiency, the universal shedding levers are shared, and low load, less noise and more steadiness coexist well. Convertible machine spare parts supported with various devices to provide wider range of fabrics multi-purpose for single machine as well.Zipper looms output can be 8 or 10 heads for nylon or metal zipper. The nylon zipper looms adopt 6 pcs heald frame is different from metal zipper.

---

---
SEARCH
Best Sale
Zipper | Textile Machinery Manufacturers - Kyang Yhe (KY)
Based in Taiwan, Kyang Yhe Delicate Machine Co., Ltd. is one of the leading Zipper | textile machinery manufacturers since 1964.
Kyang Yhe (KY) industrial textile machines are designed to deliver fine quality textile knitting products such as elastic tapes, ribbon tapes, safety belts, luggage belts, hooks and loops, etc. Their textiles equipment is productive, high speed, easy to operate. It includes needle loom machines, weaving machines, label printing machines, weaving loom machines and more.
Kyang Yhe (KY) has been offering customers high quality textile machinery since 1964. Both with advanced technology and 50 years of experience, Kyang Yhe (KY) makes sure meet customer's demands are met.
View our quality textile machinery products
Needle Loom
,
Printing Machine
,
TRENZADORAS
,
URDIDORES
,
Covering Machine
,
Packing Machine
,
Cone Winding Machine
,
Straightening Machine
,
Label Slitting Machine
,
Electronic Cutting Machine
,
Tipping Machine
,
Finishing And Starching Machine
,
Continuous Dyeing Machine
,
Cutting and Folding Machine
,
Crochet Machine
,
Cord Knitting Machine
and feel free to
Contact Us
.
---
Hot Products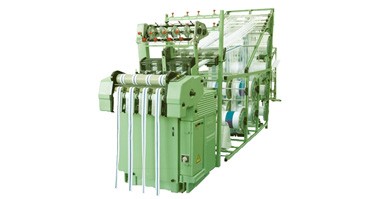 High speed automatic needle loom series of products
High-speed production of elastic, ribbon, polyester plain belt, seat-belt...
Leer Más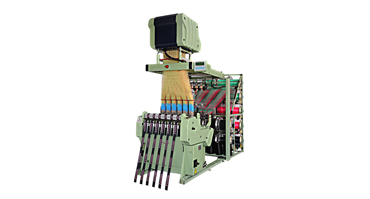 Computer jacquard needle loom series of products
Computer jacquard machine for the production of various types of flexible...
Leer Más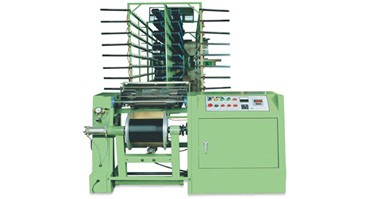 URDIDORES series of products
The warp yarn machine can be used to supply a horsepower drive wheel with...
Leer Más