KY Service
Why Choose Kyang Yhe Machine? -Provide comprehensive solutions for webbing manufacturing
Kyang Yhe is one of the well-known brands in the webbing industry. Kyang Yhe has more than 50 years of manufacturing and production experience, whether it is webbing raw materials to related machinery (such as dyeing, finishing, packaging, etc.), through its extensive experience in the garment webbing market and expertise in equipment , Kyang Yhe team is your team, to build comprehensive custom solutions for your company, can help open up new horizons for your business.
Provision of required R&D service
After evaluation by a professional technical consultant, and according to actual needs, we will customize special webbing machinery and equipment according to customer-to-customer requirements.
Know-how technique transfer
In order to ensure the smooth operation of the webbing equipment and bring high-quality output to your company, Kyang Yhe provides webbing machinery related training.
Perfect after service
The Customer-oriented company pays attention to the customers' demands and experience, implements service differentiation strategies, carries forward the customers' satisfaction project comprehensively and creates a brand of needle loom machinery service with a good reputation domestically.
We guarantee "one year manufacturer warranty" under normal use, including maintenance and repair, professional consulting, and troubleshooting. (electrical products within 3 months free replacement or repair.)
About Kyang Yhe's service process
Kyang Yhe receives customer inquiries, will check all the details according to customer needs (bandwidth, thickness, weft density, finished products, etc.) or the required models and features to suggest suitable model with quotation. Samples may be required to analyze the appropriated models by our technician before offering. Our manufacturing technology department will discuss with the customer in accordance with the characteristics of the machinery and the product to make sure we provide the most suitable model to customer. After the customer confirms the model and signs the contract of the order, manufacturing production arrangements.
About Packing
Machines are all well packed by wooden case, meeting with international standards to protect the machine from damage during transit. Kyang Yhe needle loom machine will attach a detailed operating manual and spare parts manual, allowing customers to understand the operation of machinery and precautions.
Kyang Yhe's warrants that machines and components are manufactured under strict quality control to assure normal operation. The warranty period is one year from the date of arriving at port. During the warranty period, the machine components (excluding consumable parts) will be repaired or replaced without any charge. Only the first purchaser is entitled to the warranty. Well preserving documents with the date of arriving at port is highly recommended. If the machine component is repaired or replaced during the warranty period, the warranty period is not renewable because of the repaired or replaced accessory component.
◎This warranty does not cover the following:
Consumable parts.
Failure or damage resulting from misuse, accident, neglect, or misapplication.
Damage resulting from modification without permission.
Damage resulting improper maintenance.
Failure or damage resulting from force majeure, such as nature disasters, wars, etc.
Beyond the warranty period or warranty void, customer shall be responsible for all the expenses incurred such as component, freight charge, daily salary, flight charge, etc.
SEARCH
Best Sale
Weaving Machine | Textile Machinery Manufacturers - Kyang Yhe (KY)
Based in Taiwan, Kyang Yhe Delicate Machine Co., Ltd. is one of the leading textile machinery manufacturers since 1964.
Kyang Yhe (KY) industrial textile machines are designed to deliver fine quality textile knitting products such as elastic tapes, ribbon tapes, safety belts, luggage belts, hooks and loops, etc. Their textiles equipment is productive, high speed, easy to operate. It includes needle loom machines, weaving machines, label printing machines, weaving loom machines and more.
Kyang Yhe (KY) has been offering customers high quality textile machinery since 1964. Both with advanced technology and 50 years of experience, Kyang Yhe (KY) makes sure meet customer's demands are met.
View our quality textile machinery products
Needle Loom
,
Printing Machine
,
Braiding Machine
,
Warping Machine
,
Covering Machine
,
Packing Machine
,
Cone Winding Machine
,
Straightening Machine
,
Label Slitting Machine
,
Electronic Cutting Machine
,
Tipping Machine
,
Finishing And Starching Machine
,
Continuous Dyeing Machine
,
Cutting and Folding Machine
,
Crochet Machine
,
Cord Knitting Machine
and feel free to
Contact Us
.
---
Hot Products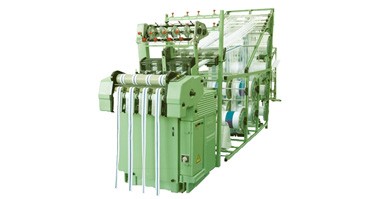 High speed automatic needle loom series of products
High-speed production of elastic, ribbon, polyester plain belt, seat-belt...
Baca Selengkapnya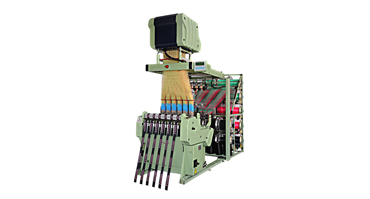 Computer jacquard needle loom series of products
Computer jacquard machine for the production of various types of flexible...
Baca Selengkapnya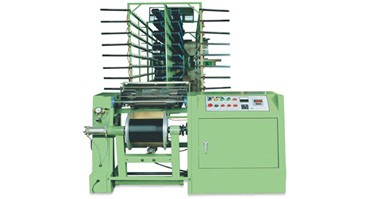 Warping Machine series of products
The warp yarn machine can be used to supply a horsepower drive wheel with...
Baca Selengkapnya