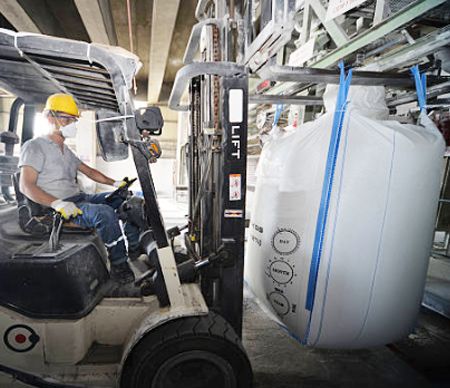 Stevedore Strap Loom And Equipment
Stevedore strap is a part of the bulk bag (jumbo bag or FIBC), that attach in some way to sew into a bulk bag to make it more convenient for handling.

The raw material of stevedore strap usually uses PE yarn or PP yarn. The PE yarn is less prone to mold, has no effect on the environment of moisture and humidity, and has high abrasion resistance, alkali resistance, acid resistance and oxidation resistance, it is not easy to be damaged by shovel or other tools.

Stevedore strap can be used in rich colors and are easy to see in bright sunlight or dimly lit places. It is widely used as a consumable for unpacking and unloading large bags of powder and granular materials in plastics, rubber, building materials, medicine, chemical and other fields.

KY stevedore strap loom can produce with customer's sample, including width, thickness, material, function and output. Make it easy for you to produce massively by auto control. Meanwhile guarantee the stability and quality.
---
KY Needle Loom For Stevedore Strap
For more detailed product information and quotation of "Stevedore Strap Loom", please leave an inquiry as below online form, we will get back to you soon.

For more information on "Stevedore Strap Loom", including output, maintenance services or factory expansion solution suggestions, please provide detailed information on the stevedore strap photo, tape width, thickness of online form to supply the best service for you.
---
Gallery

Video





Related Products

KYF

Bonas Type Needle Loom Machine application for various tapes output ranges from 2 to 12 by number of tape and width from min 3mm to max 110mm, the weft...

Details